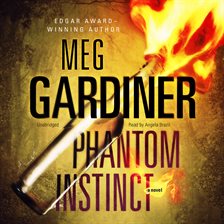 When shots ring out in a crowded Los Angeles club, bartender Harper Flynn watches helplessly as her boyfriend Drew is gunned down in the crossfire. Then somebody throws a Molotov cocktail, and the club is quickly engulfed in flames. LA sheriff's deputy Aiden Garrison sees a gunman in a hoodie and gas mask taking aim at Harper, but before he can help her a wall collapses, bringing the building down and badly injuring him.
---
---
"Meg Gardiner is one of my favorite authors. She always delivers a terrific read. Phantom Instinct should go to the top of your 'to be read' pile."
Karin Slaughter New York Times bestselling author
---
"Meg Gardiner's trademark strengths are working better than ever here-characters as real as your friends, and a plot as real as your nightmares."
Lee Child #1 New York Times bestselling author
---
"A year after Harper Flynn's boyfriend was murdered when gunmen stormed the nightclub where she worked, Harper is still struggling with survivor's guilt and lingering questions…She hopes that Aiden Garrison, an LAPD detective who survived the club attack and also spotted a third gunman, will help her cause with police…Harper and Aiden's alliance is full of heady chemistry, but a layer of mut...
Booklist
---
This title is available for 21 days after you borrow it. This title is available for streaming and downloading (mobile devices only).