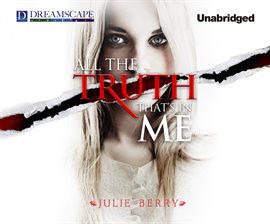 All the Truth That's In Me
Four years ago, Judith and her best friend disappeared from their small town of Roswell Station. Two years ago, only Judith returned, permanently mutilated, reviled and ignored by those who were once her friends and family. Unable to speak, Judith lives like a ghost in her own home, silently pouring out her thoughts to the boy who's owned her heart as long as she can remember - even if he doesn't know it - her childhood friend, Lucas. But when Roswell Station is attacked, long-buried secrets come to light, and Judith is forced to choose: continue to live in silence, or recover her voice, even if it means changing her world, and the lives around her, forever.
---
---
"Lyrical language, a good mystery, and a compelling heroine - this is a page-turner with substance."
School Library Journal (starred review)
---
"...will draw readers in, and the gradual unveiling of secrets will keep them absorbed."
Publishers Weekly (starred review)
---
"Every now and then, a novel comes along with such an original voice that readers slow down to savor the poetic prose. This is such a story."
Kirkus Reviews (starred review)
This title is available for 21 days after you borrow it. This title is available for streaming and downloading (mobile devices only).
People who borrowed this title also borrowed