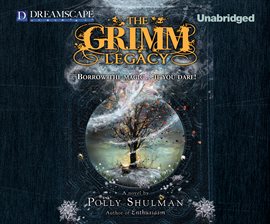 Elizabeth has a new job at an unusual library - a lending library of objects, not books. In a secret room in the basement lies the Grimm Collection. That's where the librarians lock away powerful items straight out of the Brothers Grimm fairy tales: seven-league boots, a table that produces a feast at the blink of an eye, Snow White's stepmother's sinister mirror that talks in riddles. When the magical objects start to disappear, Elizabeth embarks on a dangerous quest to catch the thief before she can be accused of the crime - or captured by the thief. Polly Shulman has created a contemporary fantasy with a fascinating setting and premise, starring an ordinary girl whose after-school job is far from ordinary - and leads to a world of excitement, romance and magical intrigue.
---
---
"Starred review. The author brings the seemingly disparate elements together in the end, while still making certain that her protagonist's problems are not completely solved by the world of magic. Shulman's prose is fast paced, filled with humor, and peopled with characters who are either true to life or delightfully bizarre. Fans of fairy tales in general and Grimm stories in particular wil...
School Library Journal
---
"...action fans will find plenty of heart-pounding, fantastical escapades as the novel builds to its satisfying, romantic conclusion. A richly imagined adventure with easy appeal for Harry Potter fans."
Booklist
This title is available for 21 days after you borrow it. This title is available for streaming and downloading (mobile devices only).
People who borrowed this title also borrowed